5 mejores tablets para editar y trabajar en Photoshop
Fotocreativo
cuenta con el apoyo de su audiencia. Cuando compras a través de enlaces en nuestro sitio, podemos ganar una comisión de afiliado sin costo adicional para ti. Como Asociado de Amazon, ganamos con las compras calificadas.
Aprende más
(Actualizado en: 28/07/2023)

Mejora tu edición de fotos sin gastar demasiado.
Nunca ha sido más asequible elegir las mejores tablets para editar fotos y digitalizar a muy buena calidad. Las características que alguna vez costaron cientos se pueden obtener por 60 o 70 dólares si sabe dónde buscar. Deje de luchar con ese molesto mouse y mejore su juego de edición de fotos con una de estas tabletas de lápiz asequibles.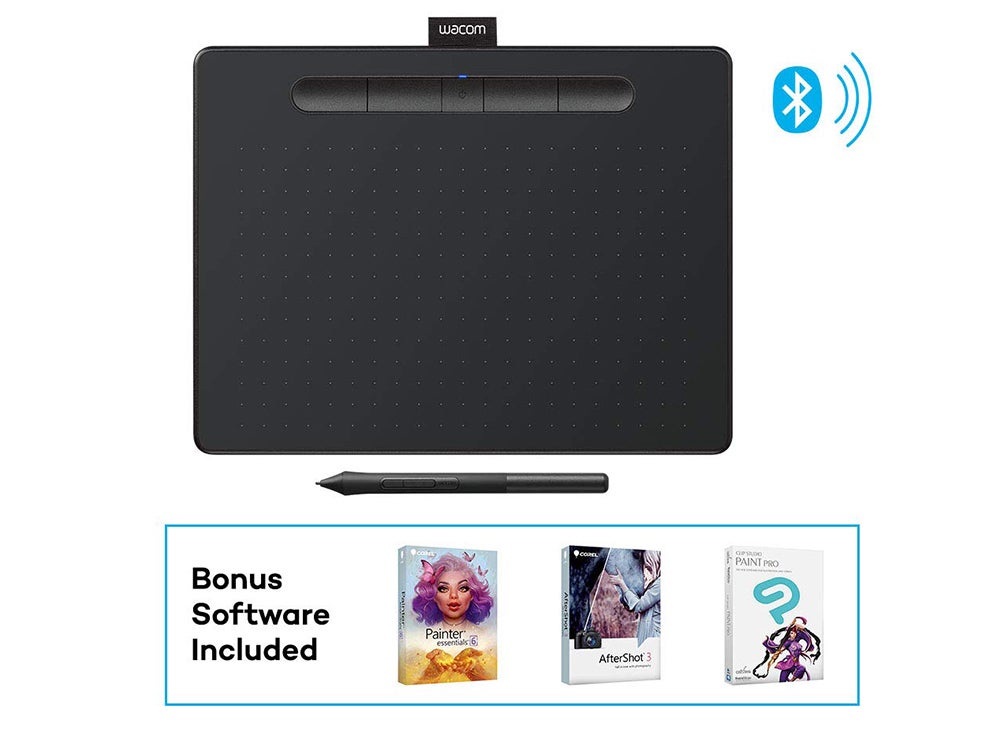 Wacom es la marca a batir cuando se trata de pen tablets, pero eso también significa que pagará más por menos funciones. La línea Intuos es el nivel de entrada de Wacom y le sugerimos que elija Intuos Medium . Cuenta con un área de dibujo de 8.5 x 5.3 pulgadas, un lápiz EMR sin batería con 4096 niveles de sensibilidad a la presión, cuatro teclas rápidas personalizables y la capacidad de conectarse a su computadora de forma inalámbrica a través de Bluetooth.
Rebajas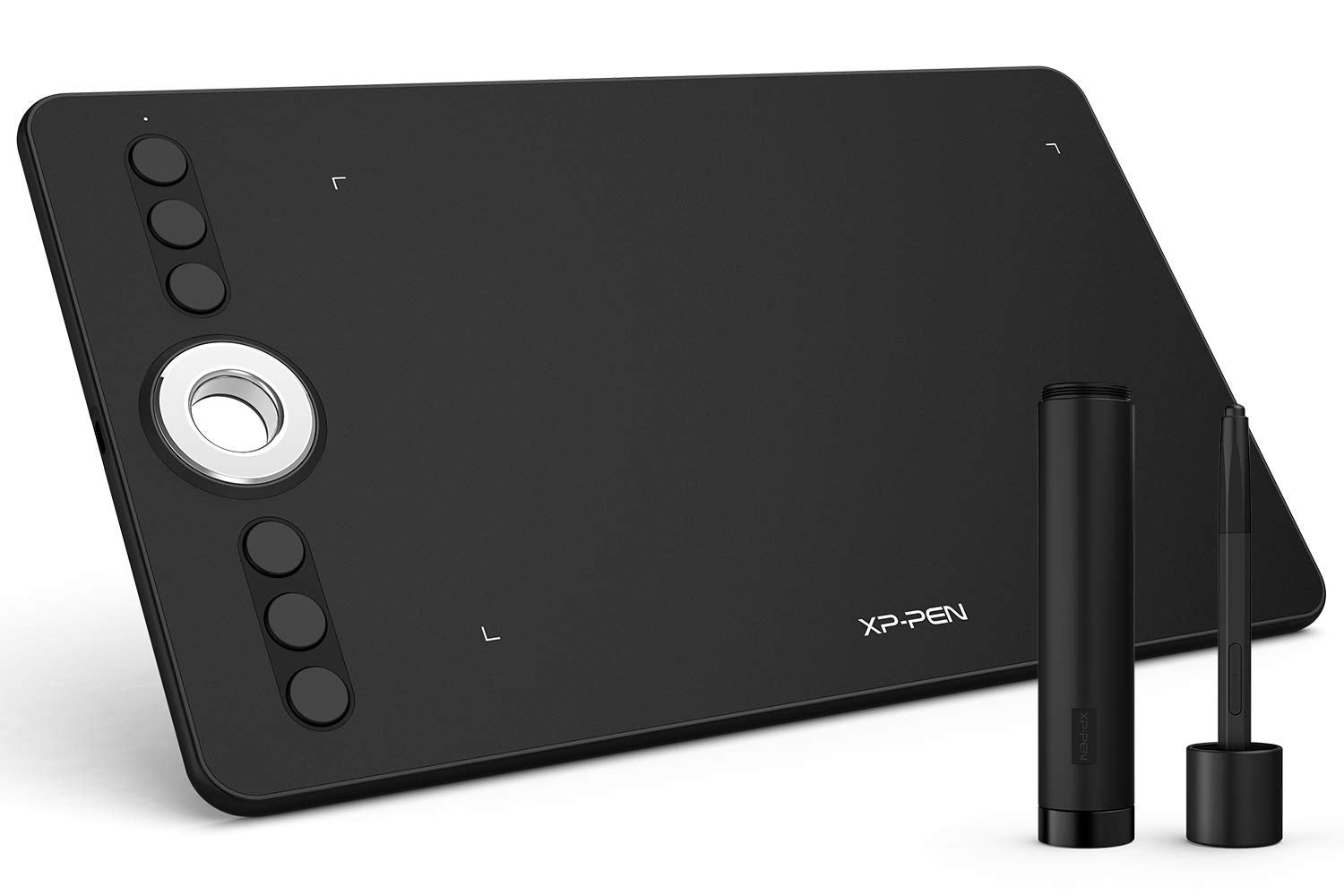 Una vez que sale de la burbuja de Wacom, los precios bajan y el conjunto de funciones aumenta. El XP-Pen Deco 02 le brinda un área de dibujo grande de 10 x 5.63 pulgadas, un lápiz sin batería con 8.192 niveles de sensibilidad a la presión, seis teclas de acceso directo personalizables y una conveniente rueda giratoria que se puede programar para hacer zoom, opacidad y tamaño del pincel. y más. No hay conectividad inalámbrica aquí, pero puede pasar al Deco 03 si es imprescindible.
XPPen Deco 02 Digital Graphics Drawing Tablet Drawing Pen Tablet with Battery-Free Passive Stylus and 6 Shortcut Keys (8192 Levels Pressure)
XPPen Deco 02 drawing tablet has a sleek newly designed silver roller with hollow mirror plating. The Roller Wheel is designed to…
XPPen new advanced P06 passive pen was made for a traditional pencil-like feel! Specially designed for the Deco 02, it delivers a…
Deco 02 graphic tablet capable of reaching 8192 levels of pen pressure sensitivity! Accelerate your every stroke for fast and fluid…
Deco 02 drawing pen tablet features in six round, customizable shortcut keys that fit easily to your finger tip for creating a highly…
XPPen driver supports Windows 10/8/7, Mac OS versions 10.10 and above. Also compatible with Photoshop, SAI, Illustrator, Clip Studio,…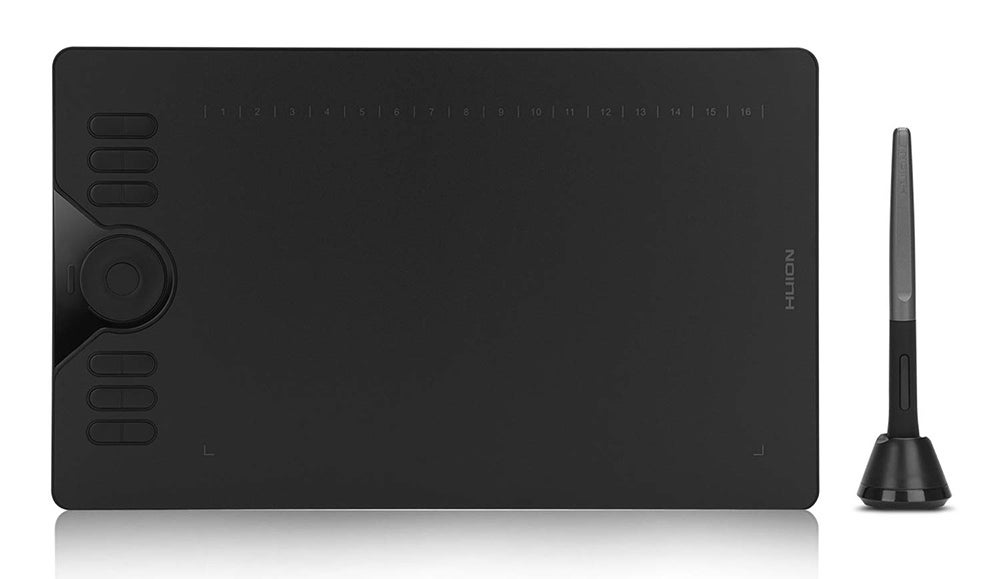 El Huion HS610 intercambia espacio de dibujo por características. Solo obtienes una superficie de dibujo de 6.25 x 3.91 pulgadas, pero el lápiz sin batería admite 8.192 niveles de sensibilidad a la presión, hay 12 teclas rápidas personalizables y aún obtienes una rueda táctil que se puede programar para múltiples funciones. En particular, el HS610 no es solo una tableta de computadora: también es compatible con dispositivos Android, por lo que puede usarlo para editar en su teléfono inteligente o tableta en un apuro.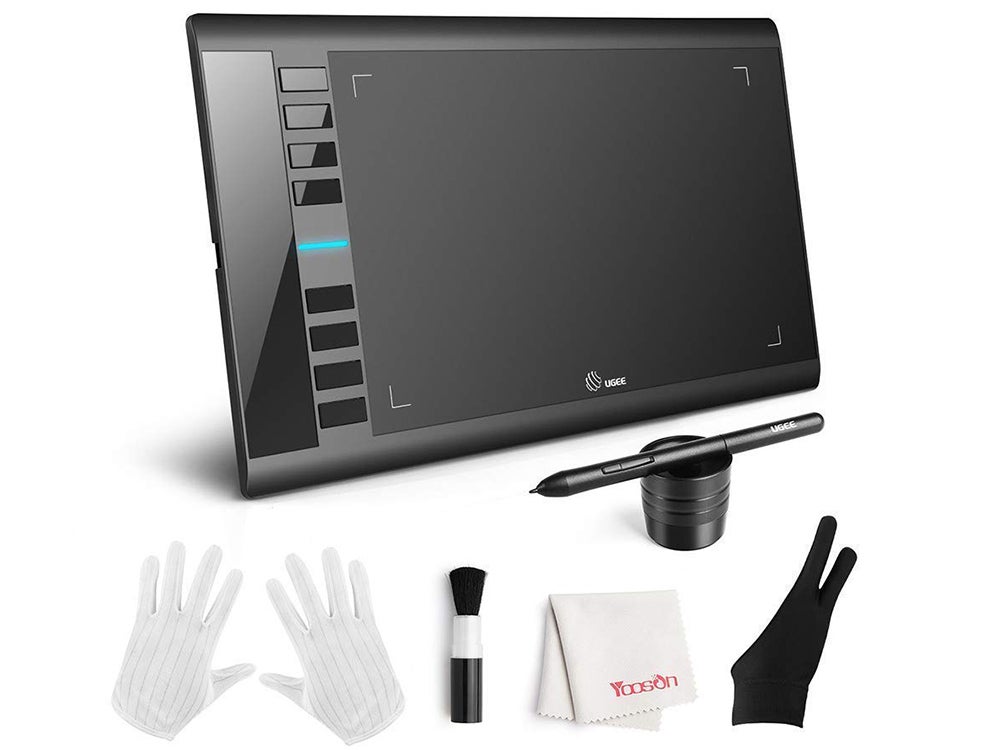 El Ugee M708 no es tan conocido como las opciones de Wacom, Huion o XP-Pen, pero promete el mismo nivel de rendimiento. El M708 cuenta con una superficie de dibujo de 10 x 6 pulgadas, un bolígrafo sin batería con 8.192 niveles de sensibilidad a la presión y 8 teclas rápidas programables.
Rebajas
Graphics Drawing Tablet, UGEE M708 10 x 6 inch Large Drawing Tablet with 8 Hot Keys, Passive Stylus of 8192 Levels Pressure, UGEE M708 Graphics Tablet for Paint, Design, Art Creation Sketch Black
【Large Active Drawing Space】: UGEE M708 V3 graphic drawing tablet, features 10 x 6 inch large active drawing space with papery…
【8192 Passive Stylus Technology】: A more affordable passive stylus technology offers 8192 levels of pressure sensitivity allows you…
【Compatible with Multiple System&Softwares】: Powerful compatibility, tablet for drawing computer, perform well with Windows 11/10 /…
【Ergonomically Designed Shortcuts】: 8 customizable express keys on the side for short cuts like eraser, zoom in and out, scrolling…
❤Easy to Set Up& Best Customer Service❤: Suits for both right and left hand user with the pen holder and extra pen tips, ideal for…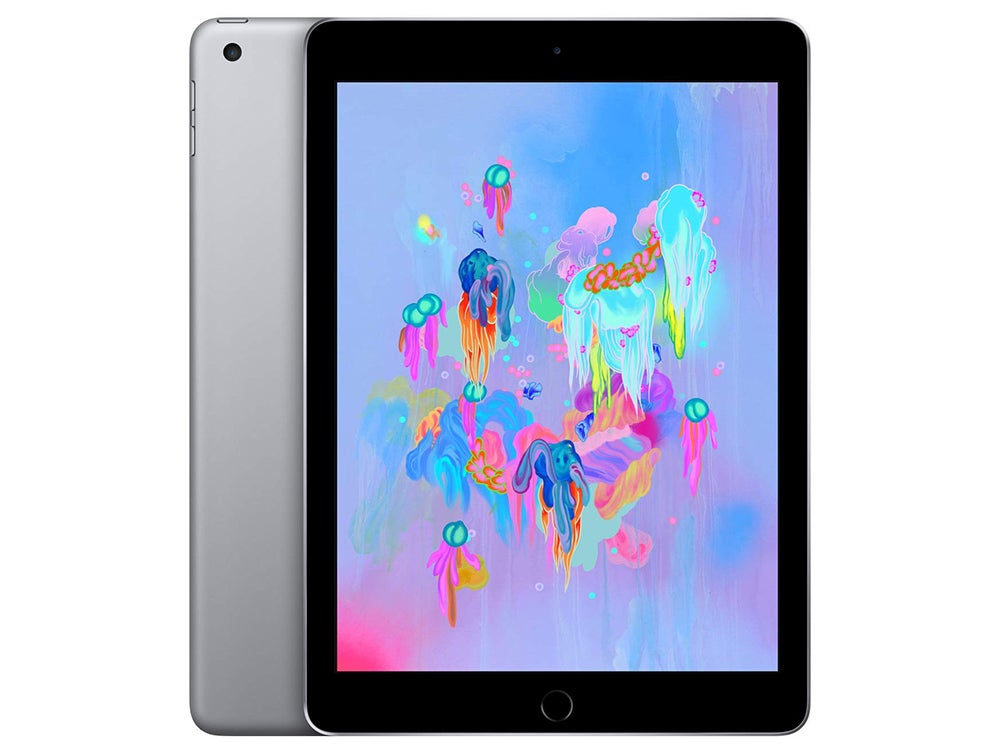 Este iPad y Apple Pencil se convertirán en una opción increíblemente atractiva para los editores de fotos que desean una experiencia de «tableta de pantalla». No hay especificaciones publicadas para el lápiz de Apple, pero parece ofrecer los mismos más de 8,000 niveles de sensibilidad a la presión que la competencia, prácticamente sin demoras y con todos los beneficios del ecosistema de Apple.
Rebajas
Apple iPad (9th Generation): with A13 Bionic chip, 10.2-inch Retina Display, 64GB, Wi-Fi, 12MP front/8MP Back Camera, Touch ID, All-Day Battery Life – Space Gray
WHY IPAD — All the essentials in the most affordable iPad, with a beautiful 10.2-inch Retina display, powerful A13 Bionic chip, and…
IPADOS + APPS — iPadOS makes iPad more productive, intuitive, and versatile. With iPadOS, run multiple apps at once, use Apple Pencil…
FAST WI-FI CONNECTIVITY — Fast Wi-Fi keeps you connected at home, work, school, or wherever you go with your iPad.
PERFORMANCE AND STORAGE — The A13 Bionic chip gives you the graphics performance you need. And with all-day battery life, iPad is…
APPLE PENCIL AND SMART KEYBOARD — Apple Pencil (1st generation) transforms iPad into an immersive drawing canvas and the world's…
Mejores tablets para fotógrafos
#
Vista previa
Producto
Valoración
Precio
1
SAMSUNG Galaxy Tab A8 10.5" 32GB Android Tablet, LCD Screen, Kids Content, Smart Switch, Long…

18,543 Opiniones

$229.99

$179.00

Ver en Amazon
2
Samsung Galaxy Tab 4 (7-Inch, Black) (Renewed)

$84.98

Ver en Amazon
3
Amazon Fire 7 tablet, 7" display, read and watch, under $60 with 10-hour battery life, (2022…

$59.99

$39.99

Ver en Amazon
4
Android Tablet, 10 inch Tablets, 2GB+32GB Computer Tablet Support 512GB Expand, 2MP + 8MP Camera,…

$54.96

Ver en Amazon
5
YESTEL Android 13 Tablet 2023 Newest 10.1 inch Tablet with Octa-Core Processor,10GB RAM+64GB ROM…

59 Opiniones

$139.99

$109.99

Ver en Amazon
#
Vista previa
Producto
Valoración
Precio
1
Apple iPad (9th Generation): with A13 Bionic chip, 10.2-inch Retina Display, 64GB, Wi-Fi, 12MP…

$329.00

$269.99

Ver en Amazon
2
Apple iPad Air 2, 16 GB, Space Gray (Renewed)

$118.49

Ver en Amazon
3
Apple iPad (10th Generation): with A14 Bionic chip, 10.9-inch Liquid Retina Display, 64GB, Wi-Fi 6,…

$429.00

Ver en Amazon
4
Apple iPad (2018 Model) with Wi-Fi only 32GB Apple 9.7in iPad – Space Gray (Renewed)

$158.00

$144.99

Ver en Amazon
5
Early 2018 Apple iPad (9.7-inch, Wi-Fi, 32GB) – Space Gray (Renewed)

$154.00

$144.99

Ver en Amazon